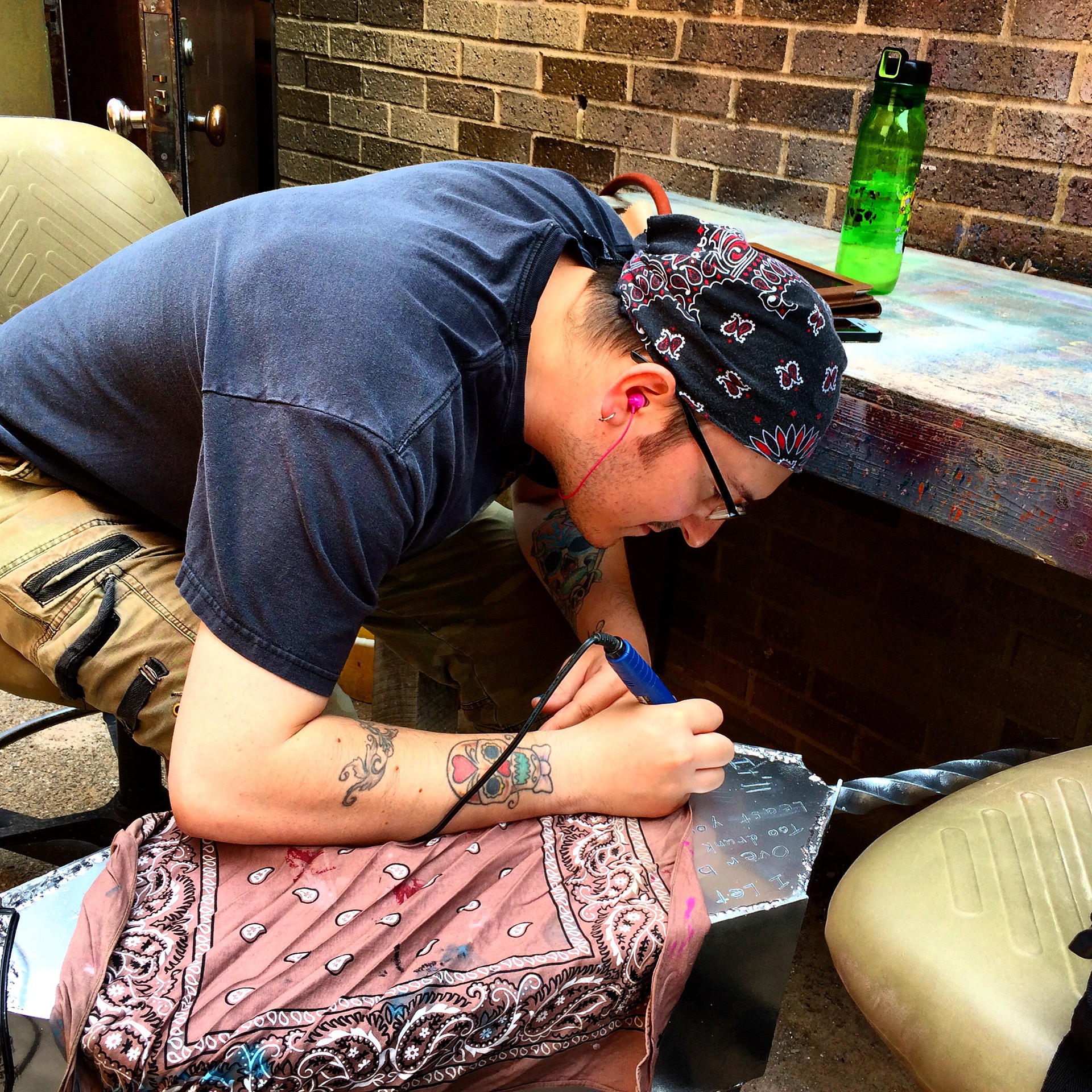 Willed into existence some years past, Frank quickly realized he needed to fill his life with constant creations. He's a sometimes sculptor, sometimes photographer, sometimes illustrator, sometimes author, and an all-the-time artist. He takes his soul-encompassing passion to push himself, and puts that into his work.

Trained in the moon-shattering field that is Media Studies, Frank earned a Bachelor of Arts from the University at Buffalo.  For most of the 2010's, he acted as the Creative Director for the Baltimore-based production company, Tonal Vision.  He brought a well-rounded (and spit-shined) background in film production, included directing, shooting, editing, and script-writing to their team.  Together, they were able to create award-winning music videos, web-series, commercials, and even an indie film.

Frank squeezed going back to college into his life, and graduated Summa Cum Laude with an Associates of Fine Arts from the NASAD accredited Community College of Baltimore County.  With his concentration in sculpture, graphic design, and digital illustration, Frank regularly plays mad scientist, creating incredible, weird, and wonderful characters and designs. 

In late 2017, Frank accepted a position as the web-designer for a Saratoga Springs company.  He packed up his art, his life, and his creativity and relocated to Upstate New York.  On any given day, when he's not buried underneath mounds of html and css, he can be found working on a number of different projects, ranging from card sets for the website, NeonMob.com, to readying his first full-length novel for publication, or making new political sculptures.

- (2016) - Outstanding Achievement in Sculpture & Student Leadership, CCBC
- (2015) - DC Peer Award, Commercial ($10K and over), Silver - Jacquie Greff & Frank Tybush, "
$500,000 Horseshoe Challenge Card-Stacker Kick-off Video
"
- (2015) - DC Peer Award, Docudrama (under $50K), Bronze - Jacquie Greff, Kraig Greff & Frank Tybush,
"Memories of the Warsaw Ghetto"
- (2014) - DC Peer Award, Bronze, Internet Only: Entertainment - Non-Fiction (Under $25K) - Frank Tybush,
"History at Risk"
web series
- (2014) - DC Peer Award, Bronze, Music Video - Frank Tybush,
"Tha Madnezz"
- (2014) - DC Peer Award, Gold, Editing - Fiction, Short - Frank Tybush,
"Tha Madnezz"
music video
- 01/2016-02/2016 - Becoming 2016 Student Transfer Show: CCBC Catonsville Gallery (Showing
Sanctuary
and
Don't Let Me Explode
).